Knowledge is empowering. Knowledge is enlightenment. As Muslims, we need knowledge to fulfill our duties to our Creator.
How do we acquire this knowledge? From whom do we acquire it? How much knowledge do we need? What is a scholar?
Join us as we journey to the core of Islamic knowledge and scholarship.
Confirmed Attending Scholars:
Shaykh Amin Kholwadia (Chicago)
Mufti Jamaluddin (New York)
Dr. Mufti Yasir Nadeem (Chicago)
Shaykh Musa Sugapong (Cleveland)
Shaykh Muhammad Chowdhury
Shaykh Idris Abdus Salam
and more!
General Program Registration:
There is no cost for attendance at the general program. Please register onsite.
Activities:
Lectures, workshops, interactive sessions, basketball tournament
Overnight Accommodations
Brothers age 13+ are welcome to make 'Itikaf and spend the nights of Friday, May 20 and Saturday, May 21 at Darul Islah, the location of the retreat, provided that they bring their bedding (sleeping bags, blankets, etc). Breakfast will be served at the masjid for those who spend the night. Alternatively, accommodations can be obtained at one of several hotels within 5 miles of the retreat location.
Program Schedule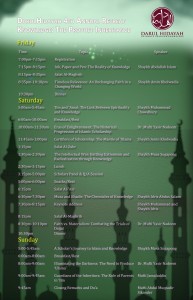 Basketball Tournament
There will be a 3-3 basketball tournament at the conclusion of the retreat (for brothers only). The tournament will take place at the Richard Rodda Community Center, located at 250 Colonial Tr, Teaneck NJ 07666. The venue is about 2 miles from the masjid, so please have transport available.
There will be 2 age groups, 12-16, and 16+. Registration is $5 and will be ongoing during the retreat. All participants must register in the masjid, during the retreat. There will be no registration available at the Rodda Center.
The shuyukh (scholars) will be making a team. Do you think you can beat them?